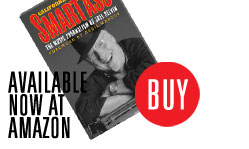 News From Parthenon
San Francisco Chronicle pop music critic Joel Selvin started covering rock shows for the paper shortly after the end of the Civil War. His writing has appeared in a surprising number of other publications that you would think should have known better. People all over the world are still pissed off about pieces in this collection. ...Read More
NEWS & NOTES FROM THE WORLD OF BOOKS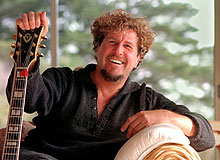 Sammy Hagar - the musician, restaurateur and Tequila- maker - has found a new calling: memoirist. It Books, an imprint of HarperCollins Publishers, said it will publish the Mill Valley rocker's autobiography next year. "I've been writing this book my whole life," the onetime Van Halen singer said in a press release. "It's time to put it between two covers." Joel Selvin, former pop music writer for The Chronicle, will co-author the book.
... Read More

---
SMART ASS
The Music Journalism of Joel Selvin
Parthenon Books 2010
Drawn from forty years of reporting in the pages of the San Francisco Chronicle and elsewhere. "Smart Ass" from Parthenon Books will for the first time collect the work of the award-winning music journalist and best-selling author of "Summer of Love" and other books.
From the Redding ranch of country maverick Merle Haggard to the humble Hawthorne beginnings of the Beach Boys in South Central Los Angeles, Selvin tracked rock and roll lore throughout the state for the Chronicle since 1970. "Smart Ass" brings together his finest reporting on California rock and roll – a collection of feature articles ranging in subjects from Phil Spector to Tom Waits, Glen Campbell to CSN&Y, the Grateful Dead to the Beach Boys – all peppered with his trademark insights and acerbic asides
---

MONTEREY POP
Chronicle Books 1992
My first book with Jim Marshall. "This is found money," Marshall told me during a chance meeting in a bank parking lot. I hadn't worked with Marshall before, but we both survived and he never did another book I didn't have a hand in. I did the photo edit on virtually the first pass. Marshall photographed the world turning in a single weekend at Monterey; it's all there to see.
This is the visual and historical record of the three-day pop music festival that announced the beginning of rock's renaissance with breakout performances by Jimi Hendrix, Otis Redding, Big Brother and the Holding Company, and many others.
---

MID-LIFE CONFIDENTIAL:
The Rock Bottom Remainders Tour America With Three Chords and an Attitude
Viking Penguin 1994
I was nobody's favorite Remainder —some gal collected my autograph outside a Washington nigthclub, turned to her friend and said "Who's that?" before I was out of earshot – but even Al Kooper agreed I got off a good line about road manager Bob Daitz. While all these guys were having fun pretending they were rock musicians, my fantasy was that I was a best-selling author.
This was the collective account of a three-week road trip by a rock band composed of authors such as Stephen King, Dave Barry, Amy Tan, Ridley Pearson and others. Somehow I managed to join the lineup for the Critic's Chorus, a woefully inept background group that also included Greil Marcus, Roy Blount Jr., Dave Marsh and Matt Groening.
---
THE TREASURES OF THE HARD ROCK:
The Official Guide To the Hard Rock Café Memorabilia Collection
(With Paul Grushkin) Rare Air Media 2001
Buddy Holly's glasses were gathering dust in a box full of other glasses in the memorabilia department in the hamburger chain's Orlando, Florida headquarters when we got there to poke around. They dusted them off after we told them we were going to spread the glasses across the book's two opening pages.
A coffee table extravaganza drawn from the enormous collection of rock memorabilia assembled by the Hard Rock Café tells the history of the music is new and unusual ways; from the hand-painted signboard advertising the Beatles engagement outside a German nightclub to lonely scrawling drawings by Kurt Cobain.
---

PHOTOPASS:
The Rock and Roll Photography of Randy Bachman
SLG Books 1994
They raised money for the book of Randy's photos after he was killed by a hit-and-run driver. The Bill Graham people spent a year screwing around with the project before I went over and picked up the manuscript. I agreed to do this on one condition; no meetings.
Randy Bachman was a San Francisco nightclub photographer, short in stature, middling as a photographer, but greatly beloved by his countless subjects. His collection is like the school yearbook of the San Francisco music scene in the '80s.
---
BOOKS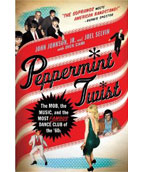 PEPPERMINT TWIST:
The Mob, the Music, and the Most Famous Dance Club of the '60s
John Johnson, Joel Selvin & Dick Cami

Thomas Dunne Books 2012
The Peppermint Lounge was intended to be nothing more than a front for gambling and other rackets, so Genovese capo Johnny Biello, trying to quietly slip out of the life in Miami, was surprised to suddenly find his club ground zero of an international dance craze – the Twist – where celebrities such as Shirley MacLaine and Greta Garbo squished in alongside Manhattan socialites and the rock and roll kids who drive up on their motorcycles.

The great thing about this book was working with my college roommate John Johnson Jr., who had a lengthy and distinguished career at the Los Angeles Times, where, among many other big stories, he broke the Menendez murder case. Forty years later, after starting out together at the UCR Highlander, we got back together and did this.
---
RED
My Uncensored Life in Rock
SAMMY HAGAR with Joel Selvin
I feel lucky and privileged to help Sammy tell his remarkable story. Sam and I go way back – I saw the Justice Brothers at the Wharf Rat—and he once gave out my home phone number to a sold-out Cow Palace audience, taking exception with one of my reviews. As a lifelong card-carrying member of rock music's critical elite, with its carefully proscribed doctrinaire orthodoxy, I am fully aware of the regard in which such circles hold Sam. To them, I say, fuck you, the guy had "Rock Candy" on his first album. There are entire, highly regarded careers that have never reached such a peak, and that was just Sammy's opening salvo. Those who have known Sammy all these years will further testify that he has unwaveringly been the same guy all along. He is as authentic as the Grateful Dead, maybe more. Sammy Hagar is a genuine working-class hero. I am as proud of this book as anything I have done. – Note From the Co-Author
---

RICKY NELSON:
Idol for a Generation
Contemporary Books 1990
David Halberstam loved this book when he tripped across it researching his far weighter tome, "The 50s." "I don't know anything about this sort of thing," he told me on the phone, "but I don't think this is a book so much about music as the American family." No wonder all the Nelsons hated it. Ricky was one of the greats of his day and almost entirely forgotten now. He would hate that his dad's TV show is his legacy.
This is the first major biography of the Rock and Roll Hall of Fame member and pioneer rock and roll musician who grew up in front of a nation on '50s TV as the youngest son of Ozzie and Harriet, stars of "The Adventures of Ozzie and Harriet," an ultimately sad and lonely life through his privileged Hollywood upbringing to his death in a place crash on New Year's Ever 1985.
---

SUMMER OF LOVE:
The True Story of LSD, Rock & Roll, Free Love and High Times in the Wild West
E.P. Dutton 1993
Robert Hunter wrote me a letter after reading this book and said that it was the first time he recognized the Janis Joplin he knew. Country Joe told me "I'm just glad I didn't do all that stupid shit." Even some reviewers like it – "Selvin's history of the Haight-Ashbury '60s picks up speed until it's a whacked-out reading frenzy just this side of Fear and Loathing in Las Vegas" -- East Bay Express.
The best-selling history of the San Francisco music scene in the '60s tells the story from the Charlatans in Virginia City to Santana in the Virgin Islands, following the flights of Jefferson Airplane, Grateful Dead, Quicksilver Messenger Service, Big Brother and the Holding Company and Janis Joplin, among many others, along the way.
---
SAN FRANCISCO:
The Musical History Tour
Chronicle Books 1994
Salvage research from "Summer of Love," retooled into a book modeled on the one Art Fein wrote about Los Angeles. My proposal, in fact, consisted of nothing more a copy of Fein's fine book with a note paper-clipped to the cover; "San Francisco?"
This is an anecdotal approach to regional music history that covers everything from the basement coffeehouses where the poets jammed with the beboppers to the garage in the East Bay where Metallica rehearsed.
---

SLY AND THE FAMILY STONE:
The Oral History
Dell Books 1997
From transcripts with interviews of the people around him, one of the most deranged stories of rock and roll emerges with the cold, calculated honesty of witnesses who survived. One of the most chilling rock and roll stories ever and I didn't write a word. Larry Graham called me back to talk, off the record, about the night he left the band to see if he could find out anything more about what really happened.
The oral history of the funk-rock champions of Woodstock reads like a nightmare as members of the group, as well as the gangsters who never left Sly's side at his height, tell their shocking stories.
---